Tiles – Ceramic, Porcelain, Vitrified
Indian Tiles Market
India is second largest tiles producer in the world. It is also second largest consumer of tiles. Since last 5 years Indian Tile Industry has adopted as on date technology, expanded  their production capacities, improved the quality of the products to match global standards and achieved remarkable growth in the exports. India is also the fourth-largest exporter of ceramic & porcelain tiles with the global export share of ~10%
Indian tile industry turnover has crossed 450 billion INR turnover and showing stable CAGR in past 5 years. Indian Tile production accounting for around 9% of the global production, per capita consumption still remain low as 0.6 square meter against global average of 1.4 square meters per capita consumption of tiles. Nearly ~40% of the Indian industry is organized, while still ~60% is largely semi or unorganized comprising players from the largest ceramic cluster at Morbi, Rajkot and other clusters. In the year 2021 India has abundant opportunities in export which has started stiff increase in the mid of year 2020.
ICS (Indian Ceramic Sourcing) can help to search best quality manufacturers of ceramic & porcelain / vitrified tiles in India.
These tiles are having various application in wall, floor, ceiling, bathroom, kitchen, elevation, interior, exterior, outdoor, parking, residential houses & commercial buildings, industrial, retail, office, shops, showrooms, malls, hotels, airports, hospitals, educational institutes, government, institutional & private projects, infrastructure projects, and public spaces.
Our Tiles Sourcing & Export products offering includes;
·         Ceramic Wall Tiles
High Definition (HD) Digital Printing Ceramic Wall Tiles
Regular Roto Colour / Screen Printed Ceramic Wall Tiles
·         Ceramic Floor Tiles
High Definition (HD) Digital Printing Ceramic Floor Tiles
Regular Roto Colour / Screen Printed Ceramic Floor Tiles
·         Porcelain / Vitrified Tiles
Soluble Salt Porcelain / Vitrified Tiles
Double Loading (Double Charge / Multi Charge / Ultra Charge / Twin Charge) Polished Porcelain Vitrified Tiles
Glazed Polished Porcelain / Vitrified  Tiles
Glazed Un-polished Porcelain / Vitrified Tiles
Slab Tiles – Large format tiles
·         Outdoor / Parking Tiles
·         Technical / Industrial / Full body Tiles
·         Step & Riser Tiles
·         Decorative / Designer / Hi-lighter Tiles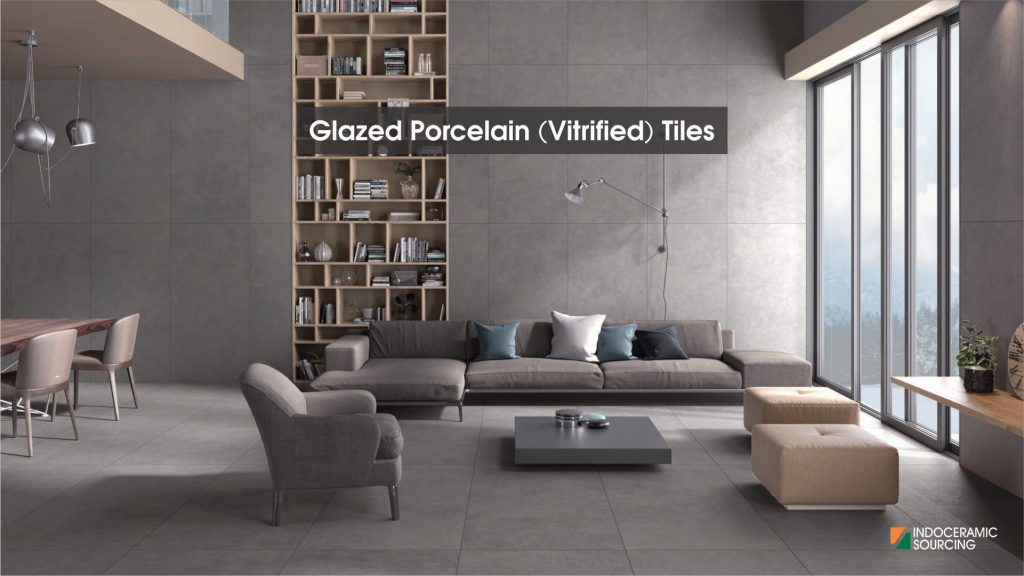 The designs collection comprises of myriad design patterns and surface effects viz. natural marble, stone, slate, rustic, wooden, textured, structured, geometric, polished, semi-polished, satin, matte, lapato, sugar, metallic and reactive effects.
ICS offers wide arena of products for architects, interior designers, engineers, project management consultant, builders and construction houses to design and build their dream project using these tiles for wall, floor and exterior applications.
These tiles are conforms to different global standards & Indian Standards;
Group BIa ISO 13006 : 2012 Group Bia, BIIa, BIII for Dry Press Method Tiles
BS EN 14411 : 2016 by CEN – COMITÉ EUROPÉEN DE NORMALISATIO
EN 176 Bia / EN 177 BIIa / EN 159 BIII for Dry Press Method Tiles
Bureau of Indian Standards IS 15622:2006 for Pressed Ceramic Tiles
IS 13630 : 2006 complaint
IS 4457:2007 for Industrial Tiles
These are general and special purpose ceramic & porcelain (vitrified) tiles are having  following characteristics;
Slip Resistance
Frost Resistance
Abrasion Resistance – Glazed Tiles
Abrasion Resistance – Through body, Double Loading, Soluble Salt Tiles
High Scratch Hardness
Lowest Water Absorption
Chemical Resistance
Solid Break Strength
Stain Resistance
Fade Proof
Fire Proof
High Solar Reflection Index (SRI Value)
Anti-static property
Anti Microbial Germs free surface properties
Anti-bacterial tiles surfaces
You may check ICS's other ceramics and allied  products buying / sourcing services Sanitarywares & Allied Products, Tablewares & Crockery, Faucets, Bath fittings & Bath Accessories.